SHAN HASAN and THE HASAN GROUP.
Bringing a New Culture to Real Estate.
A group of real estate agents with high levels of expertise, collaborating and
coordinating in all aspects of the team make up The Hasan Group. The team
is built on a dynamic of experience, and each agent is carefully selected so
you can rest assured that an agent of The Hasan Group can assist with your
every need. First-time buyers, young investors with a desire to start their
own portfolio, and established families searching to purchase their dream
home are all welcomed with open arms. The passion and commitment to
understanding the work ethic and industry is what makes The Hasan Group
a dedicated family of real estate agents, striving to ensure clients make the
best possible decisions.
The Hasan Group was one of the first real estate teams in the area to take an innovative approach to real estate marketing, using video tours to showcase their properties. When Shan Hasan, the team's namesake, got his feet wet with the dynamics of the industry, he knew instantly that in order to deliver the best possible service, one person is simply not enough.
Having a strong team behind you is a must when you are looking to invest or buy one of the largest assets of your life. For his own team, Hasan wanted to create something where everyone came from different circles of influence, where everyone was diverse but had the same commitment, passion, and dedication, and now he successfully leads a strong team of like-minded individuals with diverse backgrounds that span seven languages.
The first agent to join the ranks of The Hasan Group was Elton Fero, later bringing on Samantha Eskharia, and Amy Willms. From there, they have grown organically. When selecting new agents, Hasan believes in speaking with each potential agent multiple times, learning not just about their work ethic, but about how they operate and live their lives. For The Hasan Group, the industry is not about the paycheque, but about building and maintaining relationships even after the transaction is done. The agents represent the team on all levels, and so who they are as people is an important part of deciding who to bring on.
The culture of The Hasan Group is truly about support and motivation, with each member walking alongside each other to find solutions to any challenges that arise. One thing that is paramount with them is that there is no competitive nature within the group. The Hasan Group is a unified front, winning together. Among recent wins is the tremendous amount of properties The Hasan Group has sold collectively, with 2022 already ahead of schedule to surpass last year's number of 190 properties. In order for such a feat to happen, the team must keep working together as they always do, reminding themselves that with each property sold is a family helped, and that the money is simply a byproduct of their success. A team is only as strong as the weakest link, and so it is the responsibility of each member to help that weakest link become stronger Hasan recognizes the importance of mental and physical health, and likes to lead by example to show that you cannot forget about your personal life.
There's a big fulfillment in my career and personal life to see my team grow and be the best person they can be," said Shan Hasan. " I don't want to see my agents becoming one dimensional. I want them to be whole. I encourage them to spend time with their families."
When interviewing a potential new agent, Hasan likes to look at them from multiple aspects. He asks himself if he would be friends with them, if he would trust them with a major financial decision. Real estate is a cutthroat business, and trust is everything, and so by pulling the answers to these questions out of each agent during the interview process, it helps to ensure that everyone in The Hasan Group is someone who is heartfelt so that clients can rest assured that their interests are top priority.
Negotiating the best possible deal for clients, whether residential, commercial, and/or industrial while maintaining a trusting relationship and operating at high volume is what makes working with The Hasan Group a tantalizing experience. The thrill and excitement of being involved in this industry comes from within. The privilege to represent clients in the biggest transactions of their lives is an honour.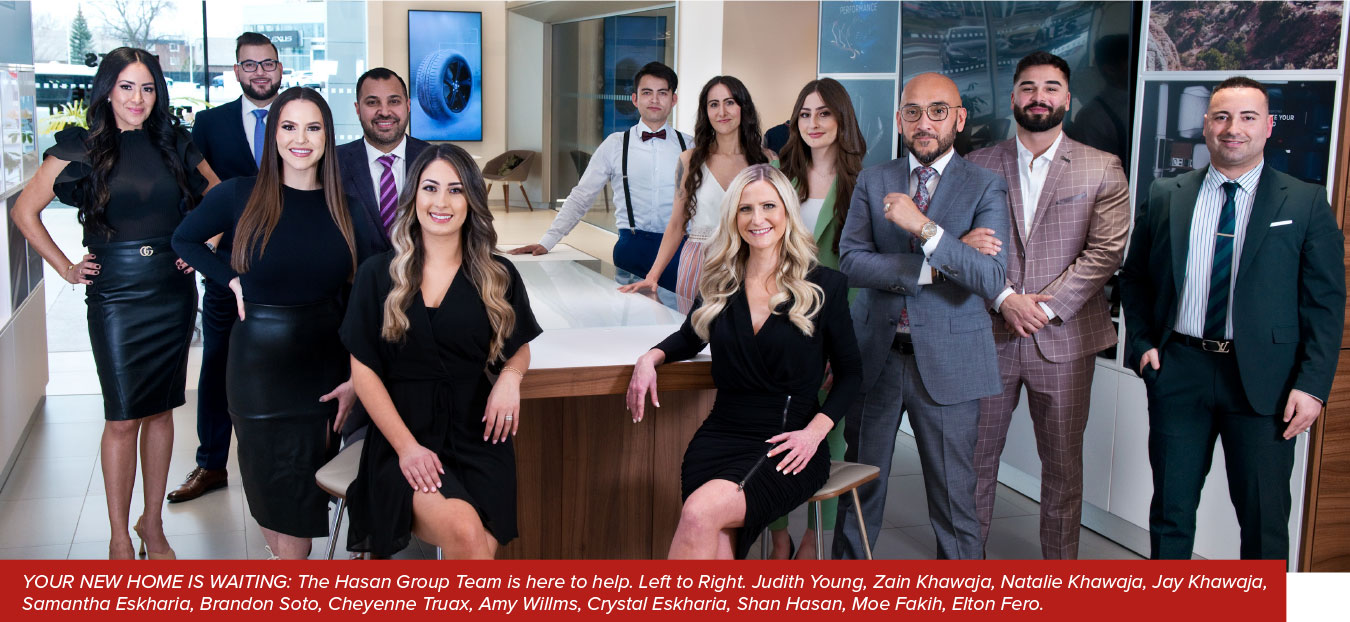 "KNOWING YOUR AGENT OR SALESMAN AND TRUSTING THEIR EXPERTISE IS WHAT MAKES FOR A SUCCESSFUL TRANSACTION AND RESULTS IN HAPPY CLIENTS. FIRST IMPRESSIONS CAN MAKE OR BREAK RELATIONSHIPS OF ALL KINDS."
Fine-tuning skills and negotiation methods to ensure that clients get the best possible deal is at the forefront with every agent in The Hasan Group. In this industry, one has to set themselves apart from others in order to stand out, and this is something that Shan Hasan, the leader behind the Hasan Group, thanks Rafih Auto Group for: being a source of inspiration to him as a young professional, a company whom he could admire and appreciate their ambition and growth as they set a new standard for business operations. For The Hasan Group, selling homes and selling vehicles are both part of the same industry: the art of selling lifestyles.
Windsor-Essex County has seen the real estate market take off exponentially over the last few years. With the new and upcoming developments of the Gordie Howe bridge, the new mega hospital, and numerous condominiums and single-family housing, Windsor is rich with a burgeoning economy. A leader in growth in its own right, Windsor is an underestimated force in Canada's broadening horizon, especially with its neighbouring one of the most dynamic cities in the United States. In a city full of resources, knowing how to navigate the system and bargaining strategies that win clients the most affordable living standards in an incredible climate surrounded by water, The Hasan Group is proud to be of service to help people relocate to this vast landscape of cost effective, prime real estate.
As the city continues to see a rise in success, the Hasan Group is seeing a rise in accolades. Shan Hasan himself
has seen a place in the top 1% in performance of all agents across Canada in 2019, placed in the top 100 agents in the country in 2020 in Real Estate Professional Magazine (REP Magazine), and is now buckling down to plan out how to get to the next level.
In the near future, The Hasan Group is anticipating exciting news to be released in the next few months, with Hasan stating that they are "poised and perfectly set up for strong growth". Whether commercial, industrial, or residential, you can count on any of the agents within The Hasan Group to steer you in the right direction with all of your real estate needs.
The Hasan Group offers clients superior service and offers years of experience to help clients at any stage of their real estate journey. If this is your first time working with The Hasan Group, welcome. They look forward to making your real estate transaction the best one yet. Call them at 226-788-9966 to get started.