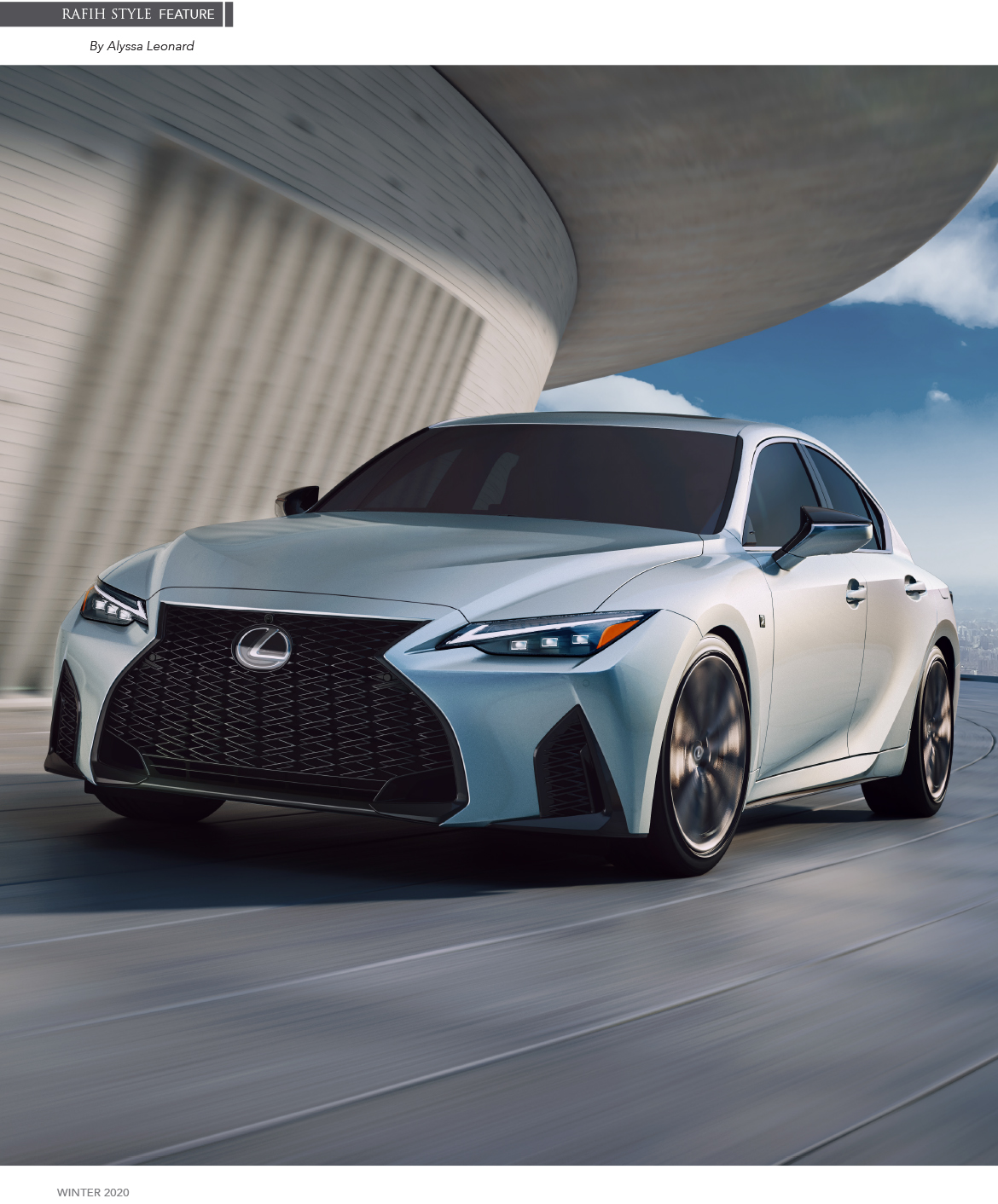 2021LEXUS IS:
MEET THE RADICALLY NEW
LUXURY SPORTS SEDAN.
Provocative and agile is how Lexus is describing the new 2021 Lexus IS. It's available in two six-cylinder AWD models and a turbocharged four-cylinder RWD, and it comes in three available F SPORT series packages for your pure driving enjoyment. Combined with its bold new design, and updated technology, the 2021 Lexus IS is ready to stand apart from the sport sedan crowd.
The 2021 IS is the first Lexus to be test driven at the newly developed $2.8 Billion Shimoyama track in Japan, among other test facilities, and on various road surfaces and conditions to sharpen the drive. Engineers made several changes to the framework and tuning to ensure a better driving experience and a closer bond between driver and vehicle. With enhanced rigidity, the 2021 IS provides immediate steering feedback while reducing unwanted noise and vibration, and a revised suspension layout aids in the reduction of unsprung weight.
The new exterior design features a sharper overall contour with muscular fenders to accommodate the larger 19 inch wheels. Furrowed, slender headlamps, sloped rear-quarter pillars, new rocker panels and lowered side character lines that carry through to the runk's rear contribute to the 2021 IS' aggressive look, while the newly designed spindle grille and wider lower stance help to emphasize the sedan's athletic nature. It has an all-new blade-style light bar that spans the rear of the vehicle for a signature look. It even comes in an additional five new exterior colours: Grecian Water, Iridium, Cloudburst Gray, and Infrared.
As for the interior, a new feature this year is an available 10.3 inch touchscreen. The new multimedia system is compatible with both Apple CarPlay® and Android Auto™. The IS also has standard NuLuxe-trimmed sports seating, a Smart Key with push-button start, and a dual-zone automatic climate control system. Also included is an enhanced connectivity feature that allows you to control the Lexus IS from your smartphone, smartwatch, or smart home device. Each door features new trim in the F SPORT models with a graphic pattern of embossed intersecting lines. Interior elements are embellished for the first time in Black Metallic paint or Black Geometric Film. There is also an exclusive Silver Wood ornamentation for the F SPORT Series 3 package on the IS 350.
The 2021 Lexus IS also introduces the LSS+ 2.5, which comes standard across all Lexus IS packages. It has an array of new additions and enhancements, including the enhanced Pre-Collision System. The camera and radar capabilities enable better detection of preceding bicyclists in daytime and pedestrians in both daytime and lowlight conditions. When making a left-hand turn, it has improved recognition of an oncoming vehicle or pedestrian. It also includes Lane Departure Alert, Lane Tracing Assist and Emergency Steering Assist for lane tracing assistance as well as All-Speed Dynamic Radar Cruise Control (DRCC). DRCC contains a new feature that assists with safely passing slower vehicles. Once the turn signal is engaged to indicate passing, the system provides an initial increase in acceleration. After changing lanes, the vehicle will continue to accelerate until it reaches the preset driving speed. Another feature the LSS+ 2.5 includes is Intelligent High Beams, which detects preceding or oncoming vehicles and automatically switches between high and low beam headlights.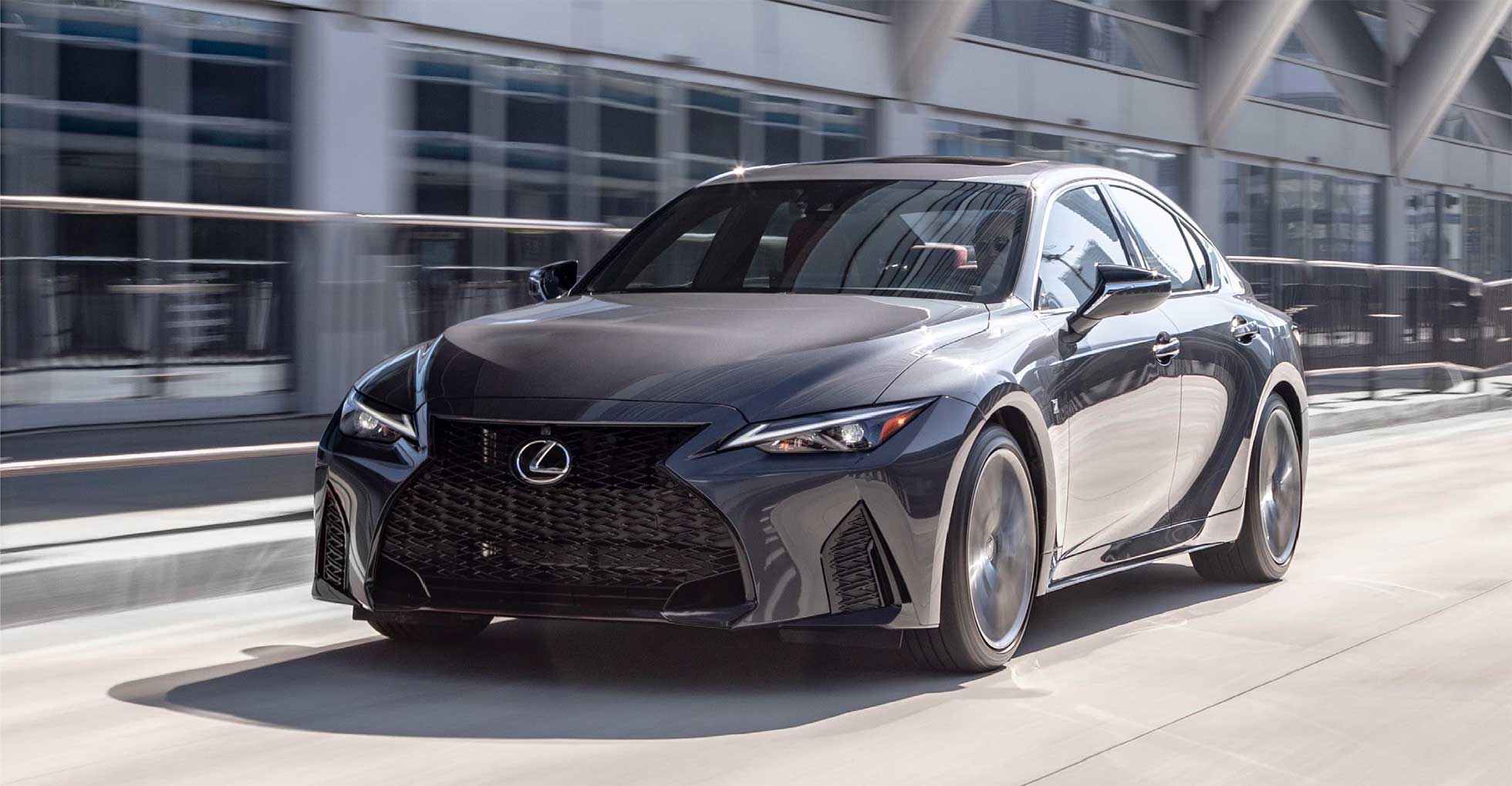 The F SPORT series models are fast, fun and furious. They come with active sound control to increase the volume of the engine at the touch of a dial. Also exclusive to the F SPORT series is a unique front bumper and an available carbon-fibre rear spoiler, as well as a race-inspired circuit red cockpit with features like the F SPORT accelerator pedal, brake pedal, footrest, and combination meter.
The Lexus IS 300's RWD powertrain is a turbocharged 2.0L four-cylinder engine that produces 241 horsepower and 259 lb.-ft. of torque and features an adaptive transmission control. For optimum gear selection, it's paired with an 8-speed SPORT Direct Shift automatic transmission. This model includes the 19 inch F SPORT wheels, 8-way power-adjustable front seats, F SPORT design enhancements and more.
The IS 300 AWD is powered by a 3.5L naturally aspirated six-cylinder engine that generates 260 horsepower and 236 lb.-ft. of torque and includes dynamic torque all-wheel-drive for active distribution between the front and rear axles. On dry roads it maintains a 30:70 frontto-rear torque split but it can send as much as 50 per cent to the front wheels depending on road conditions. Some of the features include 18 inch alloy wheels, 8-way power-adjustable heated front seats, automatic climate control, and a smart key system with a push button start. This model may also be enhanced with five different packages, all with their own varying upgrades: Premium, Luxury, Ultra-Luxury, F SPORT Series 1 and F SPORT Series 2.
If what you want is maximum power, then the IS 350 AWD is made for you. This 3.5L six-cylinder engine produces an impressive 331 horsepower and has a performance time of 0-96 km/h in just 5.7 seconds. It's paired with a 6-speed SPORT Direct Shift automatic transmission as well as dynamic torque all wheel-drive. It offers all of the upgrades and features of the IS 300 AWD F SPORT Series 2 model. It can be enhanced with the Dynamic Handling Package F SPORT Series 3. This includes the 19 inch forged BBS wheels, exclusive triple LED headlamps, carbon fibre spoiler and mirror covers, silver wood interior accents, and the Adaptive Variable Suspension with SPORT+ mode.
If you are craving an exhilarating driving experience featuring comfort and style, the new 2021 Lexus IS is waiting for you. Visit lexus.ca and https://www.lexusofwindsor.com/ to learn more about this luxurious sports sedan.